Training Day
1st Training Day
One of the things i love most about fatherhood is the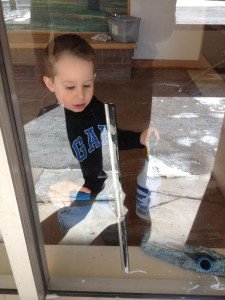 excitement young kids have for just about everything.  Even the most mundane tasks that we do everyday are thrilling adventures to a young child.
Earlier this week we took a few moment's to begin training of our newest and cutest worker.  My son, 3 year old Grayson.  Now he really wants to "clean windows with daddy"  rather then go to daycare or, dare i say it stay home with Mommy.
If you can convince Mommy maybe we can bring him along to your house.
1st: lesson the rubber goes on the glass.