Residential Window Cleaning
Residential Window Cleaning – Clean feels good!  Nobody likes a dirty, dull home. With clean windows your home will feel bright, cheery, and inviting.
If you're like most of our customers, you have a to-do list a mile long.Between taking the kids to soccer, shopping for groceries, or a big project at work, life keeps you very busy.
Let the professionals at Sunrise Window  Cleaning take residential window cleaning off your list. Whether you're tackling spring or fall cleaning or preparing for the holidays, we can remove one of your headaches.
Do you really want to get on a shaky ladder to clean those hard to reach windows or skylights?
We know that you don't want to let just anyone into your home. As a leader in the industry, you can trust us to keep your schedule, stand behind our work, and provide you the best value in window cleaning. We are detail oriented down to our cleaners' shoe covers. We guarantee that our highly trained, insured cleaners will only leave behind sparkling clean windows and your satisfaction.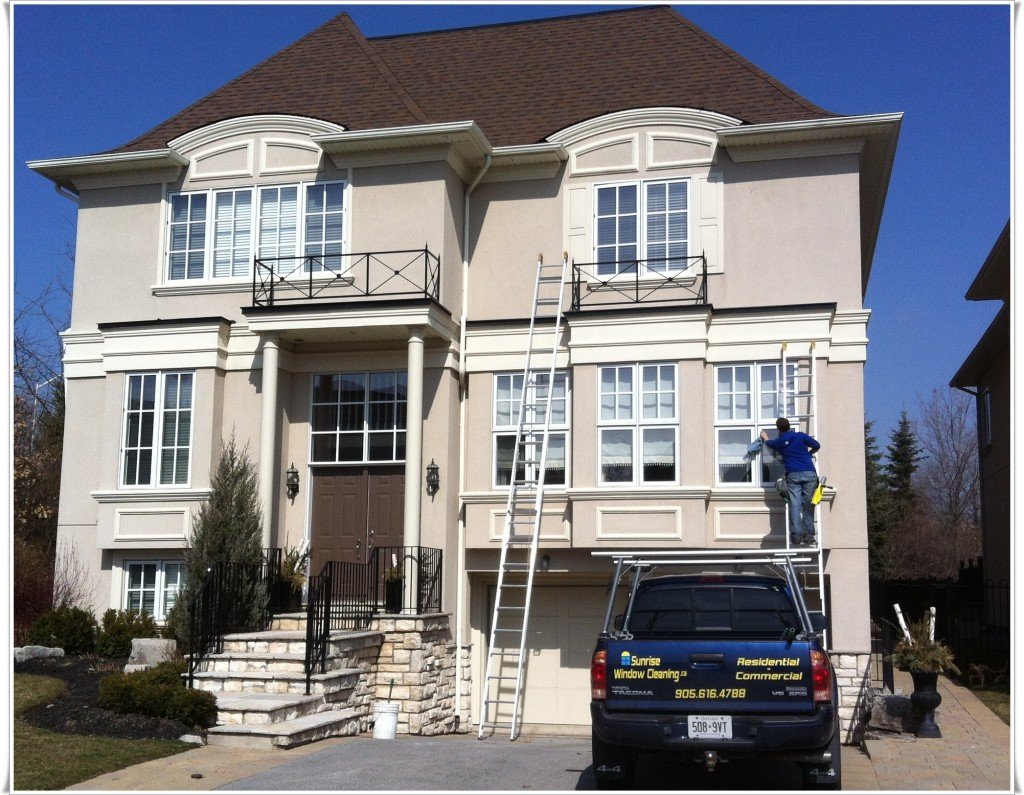 Our residential window cleaning Process
Our company uses pure water window cleaning technology on the exterior of your windows.  This is the most advanced and safest method to clean the exterior of your windows.  On the interior of your house we use the more traditional method of a professional scrubber and squeegee.
With each method we take very precise steps to ensure that all your windows come out perfectly clean every time.  Below you can read our method's.
Window Cleaning Process Exterior using Pure Water
The first step and probably the most important when cleaning with pure water is cleaning the entire window frame.
Next using a special window cleaning brush we scrub the window about 3 to 4 times, more if it's particularly dirty.
Starting from the top we rinse the window with pure water allowing it to sheen off
Let window dry perfectly clean and voila you have a clean window
Window Cleaning Process Interior:
We gently remove all the screens from the interior of your windows.
We take the screens outside to be washed in our professional screen washer (if part of window cleaning package)
At each window we will start by wetting down the entire window with a professional window cleaning scrubber and a special window cleaning solution.
After wetting the window we very gently if needed with use a professional window cleaning scraper to remove any paint over spray, bud poo or anything else that may be on the window.
Now we again wet down the window
We now wipe all the edges of your window to collect any water that may be in the rubber seals.
Now we use our professional squeegee to remove the window cleaning solution.
Finally we wipe down the entire sill with a sponge, microfiber towel.
Following these steps each time we can ensure residential window cleaning perfection